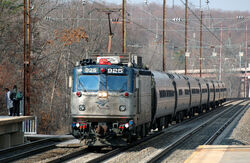 The Northeast Reigonal is a high speed rail operated by Amtrak between Boston South Station and Washington D.C with general extensions to Richmond-Staples Mill and some branches extending northbound from New York City to New Haven, CT past Hartford, CT into Springfield, MA and once a day trains run from Boston South Station to Lynchburg, VA the southbound train leaving Boston at breakfast time, arriving in New York City by lunchtime and Philadelphia in mid-afternoon only to arrive in Washington D.C by late afternoon after stops in Wilmington, DE and Baltimore. Then after passing through Manassas, VA and Charlottesville, VA arriving in Lynchburg by 8:30 P.M. Travel time between Boston and New York(approximately 225 miles) is about 4 hours and from Springfield, MA and NYC(approximately 150 miles) is about 3.25 hours. From New York to Philadelphia(approximately 96 miles) travel time is about 1.2 hours and from Philadelphia to D.C travel time is about 2.2 hours and 1.8 hrs from D.C to Richmond,VA and 3.8 hrs from D.C to Lynchburg,VA.
Classes of service
Edit
Coach Class:2x2 seating with reading lamps and an electric outlet in each seat. Prices can range from 40-80 USD per traveler. Reservations are required.
Buisness Class:2x2 seating with reading lamps and 2+ electric outlets per seat. Buisness class passengers are offered newspapers and soft drinks(Coke , Pepsi etc)and seats recline further than Coach with also more legroom. Prices may vary from 95-160 USD per traveler.