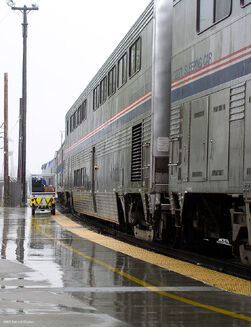 Superliners are the largest of the fleet. Built by Pullman-Standard in the late 1970's and a second order built in the mid 90s by Bombardier Transportation. As delivered, the cars come in various configurations, including coach, diner, and sleeper.
When money was made available for Amtrak to acquire new cars, plans were made to acquire bi-level cars based on the 1956 Budd-built El Capitan Hi-Levels operated by the Santa Fe Railway. (that were purchased by Amtrak when formed in 1971). The initial order of 235 Superliner I cars was placed with Chicago coachbuilder Pullman Standard on April 2, 1975, later being increased to 284 cars for $241 million. The first car was delivered in October 1978, and they made there debut on the Chicago - Milwaukee service on Feb. 26th, 1979. The coaches were the first cars delivered, so it was not until October 28th that equipped for long haul train travel. That started with the westbound Empire Builder from Chicago to Seattle. The last car of the order. a sleeper, was delivered at the end of July 1981 and also the last car built by Pullman and was named in honer of the Company's founder George Mortimer Pullman.
Wen the Superliners began to arrive in the late 1970s, many Hi-level coaches were converted into Coach-Dorms for crew use on Superliner trains. These were replaced in the 199s by the new Superliner 2 Transition Sleepers. In recent years, five El Captain lounge cars were refurbished as the Coast Starlight's Coast Starlight's Pacific Parlour lounge car. These cars have a service bar, booths, and chairs on the upper level, and were recently upgraded to have a theatre on the lower level. All other Hi-Level cars are off the company's roster.
The Superliner 2 fleet of 140 cars was built between 1993-94 at a cost of $340 million by Bombardier in Barre, Vermont, was acquired the designs and patents from Pullman in 1987. The introduction of the new cars permitted the use of Superliner cars on the east coast routes such as the Capitol Limited and AutoTrain.