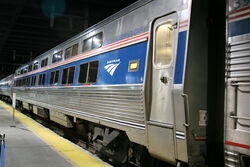 The
Viewliner
is a special single-level sleeper car meant for long distance trains within most eastern routes.
Viewliner equipped trains
In the 1980s, Amtrak was looking to replace the sleeping cars that had been used since the 70s and earlier. While the new Superliner cars were built starting in the 1979, those were too tall to run on Amtrak's eastern routes due to the clearance issues in and around New York Penn Station. Working with the Budd Company, amtrak drafted plans for a single-level sleeping and dining cars. The most striking aspect of the design is the double row of the windows.
Prototype
Edit
The prototype viewliner cars were assembled at Amtrak's shop in Beech Grove, Indiana in 1987-1988 from Budd components. Two sleeping cars (2300 and 2301) were built, as was one dining (8400). These cars were in regular service until 2002.
Accommodations
Edit
Each Viewliner comes with types of rooms: Roomette, Bedroom, and a accessible Bedroom. Adjoining bedrooms can combine to form a bedroom suite. In addition, each car includes a smaller room containing a shower and a room for a car attendant.
Formally known as the "standard bedroom," a Viewliner Roomette can hold one or two people. Roomettes includes an in-room toilet, but not a shower. Each Viewliner includes 13 Roomettes, one of which is usually designated for use by the attendant.
Formally known as the "deluxe bedroom," a Viewliner Bedroom is designed for two people but can accommodate three. Bedrooms include a complete private bathroom, including a shower. Each Viewliner contains two Bedrooms and they may be combined to form a single Bedroom Suite with room for 4-6 people.
Accessible Bedroom
Edit
An accessible Bedroom is similar to a Bedroom, but offers more space for a wheelchair or other mobility device. It cannot be combined like a normal bedroom. Reservations for an accessible can only be made by calling Amtrak and speaking with an agent.
Hallway for all rommette viewliner.  

A standard roommette.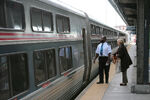 A standard roommette.  
External Links
Edit